Patrick G. Redford - Into the 5th Dimension by Patrick Redford
official PDF file + MP4 Videos 1080p FullHD Quality full Download
100 % would recommend
2 reviews for Into the Fifth Dimension
Marc Paul:
I've followed Patrick's work for quite a few years now and he always amazes me with how he manages to come up with unique ideas and creative spins of existing concepts. In this release he focuses his laser sharp mind on one of the classic pillars of mentalism, 4 DT. Almost every mentalist in the world has performed this routine at sometime or another most settling for Cassidy's efficient handling. BUT that wasn't good enough for Redford, the result is that he picked it all apart and put it back together to suit his own needs and luckily for us this is what he shares in this book. He recognised some of the problems that most pros encounter when performing the routine and set about solving them…all of them…every single one! What Patrick has created is a fabulous super-streamlined version that plays so very smoothly to an audience. It's a beautifully choregraphed demonstration of what appears to be real time in the moment mind reading. Once the 'test' is set up there is no pause in the action. No hokey opening of envelopes to distract from the mind reading. This is how mind reading should look. This is clever and very much deserves your attention. I will certainly be using many aspects of this in my own shows. I give this my highest recommendation.
BTW Patrick did not send me a free copy. I paid the full price like everyone else and consider it money well spent!
Mark Strivings:
I've been a fan of Patrick's work for many years and have always admired his thinking when it comes to mentalism. I've also been a fan of the Fourth Dimensional Telepathy plot since I came across an early version in Practical Mental Effects. There are a lot of approaches to this venerable plot and they run the gamut. But I must admit when I read the list of conditions that Patrick was seeking to meet in his handling I was skeptical. The demands that he is placing on this plot are hefty, but I was more than merely impressed when I read his solution. It's way clever, looks like real mind reading and introduces a couple of new (to me) tweaks that I have never seen before. This is outstanding thinking and extremely practical. And as an added bonus, peppered throughout the manuscript are nuggets of wisdom and tips for performance that are worth the cost of admission all by themselves. This manuscript is a genuine bargain and I cannot recommend it highly enough. Bravo, Patrick!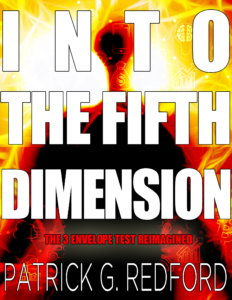 Into the Fifth Dimension is a fresh take on the classic "Three Envelope Test" or "Fourth Dimensional Telepathy" that examines a combination of methods that, I believe, move this plot of mentalism into new territories. Stop feeling like you're both openly and secretly juggling props and strive to strip away all the unnecessary procedure and simply appear to read minds.
Designed to be performed in any performing situation (close-up, parlor, or stage).
Read a detailed description here
Digitally Delivered Instantly
Purchase includes performance rights, 8.5 x 11 63 page manuscript in pdf format, and instant access to video asset library.